• Leaf Chains
Leaf Chain is the simplest of steel chains, consisting only of link plates and pins. Leaf chains are often used as counterweight chains for machine tools, elevator and oven doors, fork lift truck masts, spinning frames and similar lifting or balancing applications.
BL Series - ISO / DIN / ASA :
The BL series leaf chains are designed for medium loads and greater shocks for application in lift trucks, masts, construction and mining.
SEND QUOTE
Diamond Max BL Series :

SEND QUOTE
AL Series :
The AL Series of leaf chain are used light duty applications with relatively constant low loads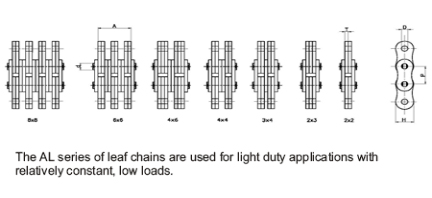 SEND QUOTE
LL Series - ISO / DIN :
The LL series leaf chains are derived from European series chains and are used in various lifting application including lift trucks, masts and counter weights
SEND QUOTE