• Miniature Circuit Breakers - MCB

SEND ENQUIRY



Range :
PLSM/PLHT/PLS6 DC
Contact position Indicator :
Red / Green
Rated Current :
0.5 A To 63A To 125 A
Rated Voltage :
AC 230/400VDC48V/60V/250V
Full Range Of Accessories :
Shunt UV, auxiliary Switch, Trip Contact, Remote Operation
Connection as per polarity marking on the product

3 Position Mounting Clip: Easy & Quick Maintenance
Allows installation & removal of MCB / other modular devices without removing the busbar and other devices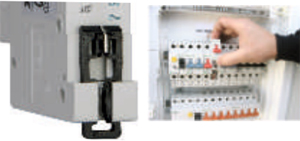 Insulated Sliding Shutter: Safe and Secure Termination
• Acts as guide for quick and secure termination
• Makes it impossible for wire to miss the terminal while wiring
• Insulated shutter prevents accidental contact - enhanced safety and system reliability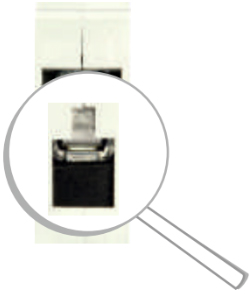 Contact Position Indicator:
• Safe to operate, always Enables visual indication of true position of main contacts
• Ensure high degree of safety during fault conditions: Welded Main Contact / Dolly Free
• True Contact Indication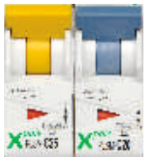 Bi Connect Terminals: Ease of Wiring
• Allows secure termination of busbars and cables simultaneously
• Looping possible without danger of loose wiring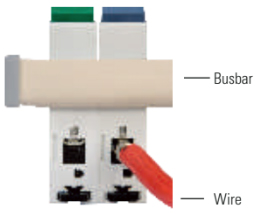 Remote Operation and Automatic Resetting
• Remote operation
• Automatic restart in the event of undesired tripping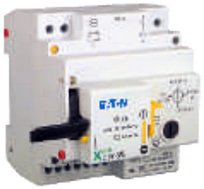 Unique colour for each rating : Appealing Aesthetics and Easy Identification
• Colour knobs provided for better aesthetics & designer look when mounted inside acrylic door distribution board.
• The rating of MCB installed is easily identifiable by distinctive dolly colours.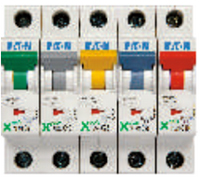 Miniature Circuit Breakers - Type PLSM
Specifications
• Rated current: 0.5 A to 63 A
• Rated voltage AC: 230/415V, DC: 48V (per pole)
• Rated breaking capacity: 10kA acc. to IEC/EN 60898
• Tripping Characteristics B, C, D
• Low let-through energy
• Bi connect optionally on load or line
• Endurance: 20,000 operations
• Full range of accessories: shunt, UV, auxiliary

Miniature Circuit Breakers - Type PLHT
Specifications
• Rated current up to 125A
• Rated Voltage AC: 230/415V, DC: 60V (per pole)
• Rated breaking capacity up to 25kA according to IEC/EN 60947-2
• Tripping characteristics B, C, D
• Accessories: shunt trip, auxiliary switch, anti-tamper device.
• Peak with stand voltage U
imp
4kV
• Endurance: 20,000 operations 2 Terminal Capacity: 2.5 - 50 mm
2

Miniature Circuit Breakers - Type PLS6 DC
Specifications
• Rated current up to 50A
• Rated voltage DC: 250V per pole, t=4 ms
• 2 poles connected in series DC: 500V
• Rated breaking capacity 10kA acc. to IEC/EN 60947-2
• Tripping Characteristics C
• Connections as per polarity marking on the product