Data Communicaton systems for ETHERNET Technology
We are Authorized Distributor, Dealer, Supplier of Data Communicaton Systems for ETHERNET Technology and our setup is situated in Mumbai, Maharashtra, India.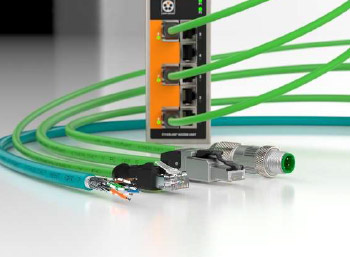 ETHERLINE® is a brand of data communication systems specifically designed for Ethernet technology by LAPP India Private Limited. These systems are designed to provide reliable and efficient data transmission for a variety of industrial and commercial applications that use Ethernet technology.
ETHERLINE® offers a comprehensive range of Ethernet cables that are designed for different applications, including Cat 5, Cat 6, and Cat 7 cables, among others. These cables are available in various lengths, types, and connectors, making them suitable for different environments and applications. The Ethernet cables are known for their high-speed data transmission, low latency, and reliability, ensuring uninterrupted data communication.
The brand's data communication systems are suitable for various industries, including automotive, machinery, and renewable energy. ETHERLINE® has a reputation for providing high-quality products that meet international standards, making them a reliable choice for businesses looking for a dependable Ethernet data communication solution.
With a commitment to innovation and sustainability, ETHERLINE® continues to be a leading provider of data communication systems in India, offering businesses a reliable and efficient solution for their Ethernet communication needs.
SEND ENQUIRY