Cable Glands
We are Authorized Distributor, Dealer, Supplier of Cable Glands and our setup is situated in Mumbai, Maharashtra, India.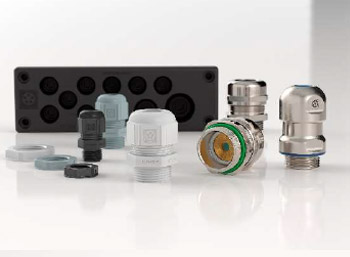 SKINTOP® is a brand of cable glands developed by LAPP India Private Limited. These cable glands are designed to provide reliable and efficient cable management for a variety of industrial and commercial applications. SKINTOP® offers a wide range of cable glands, including brass, stainless steel, and plastic cable glands.
The cable glands are available in various types, sizes, and materials, making them suitable for different environments and applications. SKINTOP® cable glands are known for their superior sealing properties, ensuring that cables are protected from dust, dirt, and moisture, even in harsh environmental conditions.
The brand's cable glands are suitable for various industries, including automation, machinery, and infrastructure. SKINTOP® has a reputation for providing high-quality products that meet international standards, making them a reliable choice for businesses looking for a dependable cable management solution.
With a commitment to innovation and sustainability, SKINTOP® continues to be a leading provider of cable glands in India, offering businesses a reliable and efficient solution for their cable management needs.
SEND ENQUIRY