• Brake Motors
Construction
Brake Motors are used for various applications, where instantaneous stopping of the driven load is required. The operation of the brake is "FAIL SAFE TYPE" i.e. normally ON When the electrical power to the motor is cut-off or the power fails, the brake is applied.

Brake Motor is a combination of an A.C. induction motor and an electromagnetic AC or DC brake. The electromagnetic brake is mounted on the non-driving end of the motor.

DC brake motors are provided with a rectifier which provides the required DC voltage to the brake coil which in turn operates the brake. the supply to the rectifier is fed from any two terminals(between any two phases) in the main terminal box of the motor.

General applications of the Brake motors are printing machinery, textile machinery, rolling mills, cranes, Hoists, material handling equipments, machine tools etc.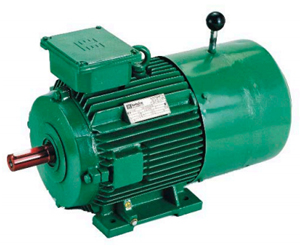 SEND ENQUIRY

Range of Hindustan Brand Brake Motors :
Kw : 0.18 to 55.0 KW
Pole : 2P, 4P, 6P, 8P
Mounting : B3, B5, B14 & combinations
Frame : 63 to 250MX
Motor Voltage : 415V+10% or as required
Frequency : 50Hz+5% or as required
Braking Torque: up to 800Nm
Brake Coil Voltage : 190V Dc (Other voltages on request)
Protection : IP54
Duty Cycle : S1 - S8

Application :
Hindustan Brake Motors can be used in many applications. A few of them are listed below:
• Machine Tools
• Textile Machinery
• Cranes & Hoists
• Printing Machinery
• Material Handling Equipments
• Geared Motors
• Cable Reeling Drums
• Rolling Mills