• Standard TEFC Motors - M2BA M 2000 range
Discontinued due to Government Regulation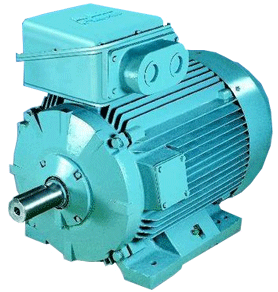 SEND ENQUIRY
M2BA315 (Flange Mounted) Mounting Designation B5, IM3001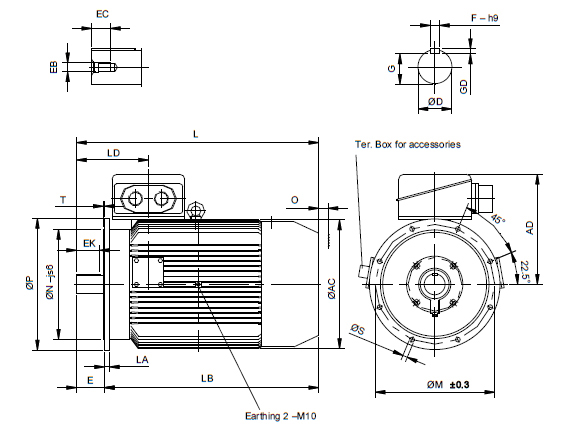 M2BA315 (Foot Mounted) Mounting Designation B3, IM1001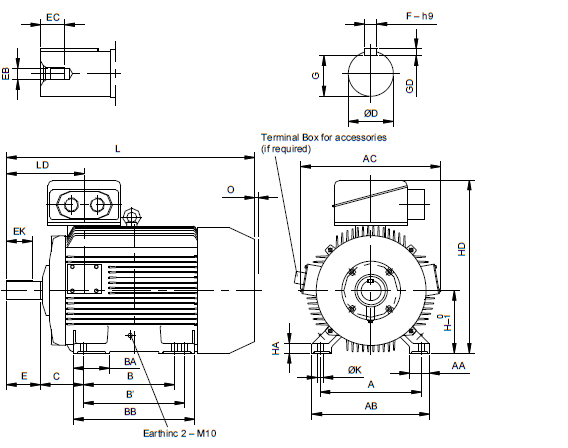 M2BA355 (Flange Mounted)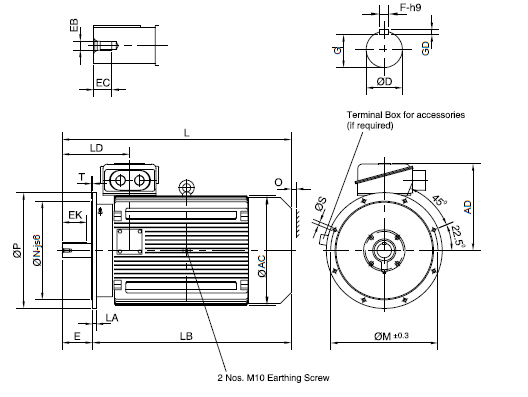 M2BA355 (Foot Mounted)
The 'M2000' Series
M2000 Motors have been engineered for the twin objective of high power 0 to weight ratio and efficiency at a designed ambient of 50 C. The performance of 'M2BA' is well ahead of relevant IEC & IS standards resulting in lower energy consumption, reduced operational costs and ultimately faster returns on investment. 'M2BA' Motors have a wide range of applications including windmill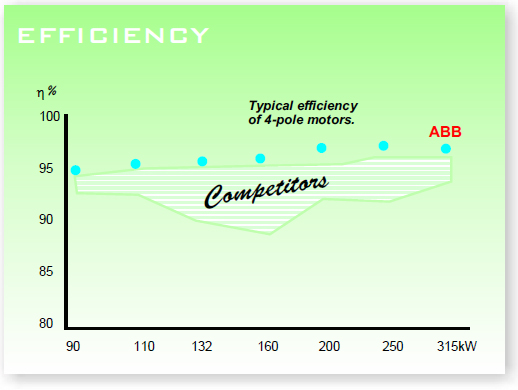 Heavy duty design
The electrical and mechanical design of 'M2BA' Motors offer high performance values in all the mounting arrangements, protection class and in all applications. 'M2BA' Motors have withstood the test of time and are established for reliability in stringent operating conditions like thermal power plants world wide.
Installation Flexibility
A dual mounting hole is provided for installation flexibility i.e. same housing length can be used for varied mounting applications.
IP55
'M2BA' Motors are protected against the ingress of water and dust. A high degree of protection
IP 55 is a standard feature of 'M2BA' Motors. Higher degrees of protection (e.g. IP 56) can also be made available on request.
Insulation scheme
'M2BA' Motors employ a unique polyamide based Class F insulation 0 scheme rated for 155 C with temperature rise limited to Class B. The advanced insulation the 'M2000' series gives high electrical and mechanical stability. This provides a generous thermal overload margin bringing greater reliability and improves life of the motor. This can be used for such conditions as increased load, high ambient temperature and variations in voltage and frequency..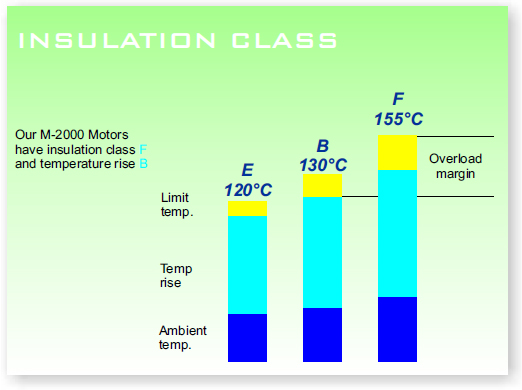 User friendly design

'M2BA' Motors have a user friendly design and less number of components leading to faster and trouble-free dismantling and assembly.
Enclosure
'M2BA' Motors use rigid cast iron / fabricated housings and are provided with integrated deeper longitudinal ribs designed to give maximum cooling surface area. Integral feet ensure that the frame is rigid and vibration resistants. These frames are treated for high corrosion resistance. Effective and robust corrosion protection means that the motor can be used in all environments.
Winding
Stator winding uses high quality enamelled wires conforming to IS:13730. The windings are reinforced in the slots with slot wedges and on the overhang with fibre glass tape. To ensure long life, the stator is impregnated with a solventless resin. Gaps between individual conductors are effectively filled with this material resulting in good thermal conductivity and superior mechanical strength. All windings are tropicalised with epoxy gelcoat and made Insensitive to moisture and micro-organisms.
Ventilation
Ventilation circuit of 'M2BA' has been optimally designed based on aerodynamic and acoustic considerations. Special design of fan blades and segmental groupings of fins in horizontal and vertical planes offer the most efficient air flow and minimum air borne noise while incurring least windage losses.
Low noise levels
'M2BA' Motors are the result of special efforts made to minimize electromagnetic, airborne and structural noise. These motors are designed for quieter operation even under abnormal load conditions.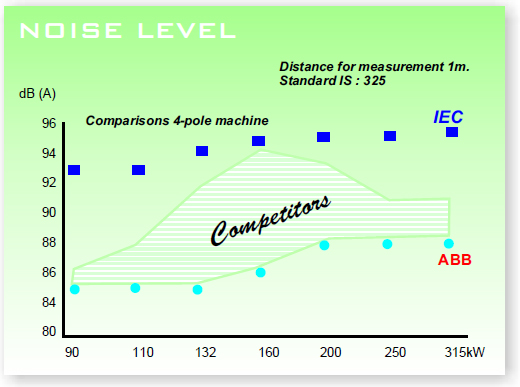 Terminal box
The spacious terminal box makes the motor quick and easy to connect. The terminal box can be rotated so that cables can be connected from the right or the left. Further, positioning of the terminal box assembly on the side or the top can also be made available on request. Flexible orientation of the terminal box with liberal sizing for easy access are design inbuilt.
Bearings
'M2BA' Motors use appropriately selected ball bearings with high temperature grease to give increased life and reliability. For high radial loads and belt driven applications roller bearings are provided. 'M2BA' Motors are provided with regreasing facility.

Voltage ranges for extra versatility
The motors are matched to the standard voltages applicable in India i.e. 415V. However, motors for voltages ranging from 220V to 660V can also be provided on request.
Frequency converter drive
'M2BA' Motors are backed by the world class technology to incorporate inherent features in the design to take care of harmonics in frequency converter and yet offer the best performance. Special attention is given to mechanical features of 'M2BA' for reliable operation at extremes of speed range in variable speed applications.