• Multi Speed Flameproof Motors
Multi Speed Flameproof Motors for Gas Groups IIA & IIB as per IS/IEC 60079
Hazardous area's are defined as those locations where explosive gas - air mixture may occur in dangerous concentrations and are defined in accordance to Indian Standard IS 5572.

Customers are to select the motor type depending on the type of area of operation of the motors and should generally follow the guidelines given above in conjunction with the relevant Indian Standards specified above.

Classification of Hazardous Gases :
Hazardous gases have been classified in IS/IEC 60079-0 and IS 5572 are associated with only Flame Proof Motors as listed below Note: FLP Motors are offered suitable for Gas Groups IIA and IIB only. Any other gas not specified, one has to refer relevant IS for the motor selection.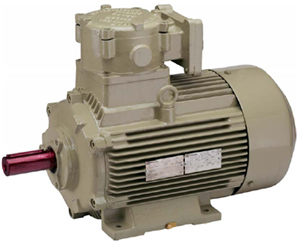 SEND QUOTE

Features :
Frame Size :- 71 to 315L
Rating :- 0.12 to 120.0 KW.
Pole : 4/2, 8/4, 6/4, 8/6 & others
Mounting :- B3, B5, B14 & combinations
Protection :- IP55
Enclosure :- TEFC